9/23/2021
I was driving by Tigardville Station early Thursday evening. I stopped for a hamburger and heard the music.
I hadn't danced like that for 25 years! I stayed until Probable Cause was packed and leaving.
Martha. ~
8/7/2021
Hi Greg!
It was so awesome to have you all out! I hope Outlaw was able to share some golden love with you both while we visited. I Googled "live bands in Vancouver WA" and a gig page came up with several bands that included yours. I knew my hubby would love your music and you were so easy to work with so I immediately decided to go with you and Probable Cause. Best decision ever! ??can't wait to have you out again although no one else is retiring for a while
Skye T. ~
1/1/2020
Your band came to the St. Helens Elks on the recommendation of Kenny Davis. You were FANTASTIC!!!
Karen V. ~ NYE Party attendee at St. Helens Elks Lodge #1999 - 12/31/2019
9/24/2018
"Hi Greg, it was great to see you and Sharon on Friday night. I see a lot of bands and I admire you for your musicianship and because Probable Cause is the best cover band I've ever seen. You've really taken Probable Cause to a point where you've set the bar so high that the original band couldn't top it live."
Dave L. ~ Lead guitar for the 99W band
12/13/2017
You guys sound great - The best I've heard!
Dawn L.
6/24/2017
Great band for dancing. We begged for one more song at the end. [and they got it! ~ gd]
The Folks at Mountaindale Sun Resort
11/8/2015
Was fortunate enough to be drug to the Shriners Toy Run Benefit at Trails End Saloon (11/7/2015). Seeing and experiencing your band for the first time was awe inspiring. Made me want to pick up the drum sticks again ! THANK YOU....
Reggie P.
9/28/2014
I saw you for the first time at The Jungle Room last night (Sept. 27 2014) with my friend/cousin by marriage Char. WE HAD A BLAST!!!!!!! So good to meet you all...thanks for signing our posters! and thanks for the T-Shirts. YOU ROCK! see you again sometime.
Anne
10/13/2012
Wish I could have stayed longer, the music was rockin good!!
New fan,
Mike
3/2/2011
A bunch of girlfriends drug me out for my birthday and guaranteed me lots of danceable, great music! They were right!
I see one Portland location in your schedule, why not more?
Teri
9/24/2010
I'm a sound engineer and I don't understand why you guys are playing here and not at casinos and larger venues.
NW
2/22/2010
Hi Greg and the band,
I'm Verlon G. At Becky B's invitation, I attended your performance at Tigardville Station on the 20th. I met and spoke briefly with each member of the band during the intermission. The whole evening was a marvelous experience. The music was well and passionately played and sung. You guys were all extremely open to talk to and friendly. All the people I met and talked to were extremely nice and interesting. Totally fun.
I went to your website and listened to all of your original songs. I'm genuinely impressed with everything I've heard from you guys.
Verlon G.
2/7/2010
Greg,
We had a great time at your gig last night.The Corner Saloon is a real hoppin' joint. I gotta say you guys were better than ever. The new bass player is real solid, a great singer and really nice guy who seems to completely enjoy playing with you guys. I brought my pal Ted out because I knew he'd totally be blown away with some "quality" playing and he was.
Looking forward to your next gig. You guys totally rock out with a BIG sound.
BB
7/15/2009
Hi Mark,
Sure want to thank you and Probable Cause for the great show Friday night at Monty's.
I've been through your web site. When you played "Another Time" I was instantly drawn in. The cute Go-Go dancer was quite the perk for the night, but your music really holds up and I'm glad you have this song on the web site. I've listened to it about 4 times now!
Anyway, thanks to Probable Cause and Sharon for the T-Shirt (I really wanted one) and I'm hoping to take in your show again when you play Monty's in August.
I play guitar but am no where near the professional level you play, but I have a great appreciation for it and art in general.
Thanks again for the great show. I'm looking forward to hearing your band again.
Sincerely,
Chris
6/3/2001
. . . I was also at the Irish Pub last night, we all had so much fun!!! The music was great & I hadn't danced like that in years. If your band plays at Nick's West in Long Beach this summer, we'll see you there!
6/4/2001
I saw Terri & Jimmy this noon & we are still talking about the fun we had Saturday night. Hope to see PROBABLE CAUSE this summer. Thanks again for the fun evening.
Nell
7/22/2001
Hi Guys,
I stopped in with my wife to see you play at the Hillsboro Airport Club (Eddie's) - and not believing my ears I decided to also go to the Robin Hood Festival and listen again. The band sounds great. Obviously everyone has years of experience I need to say that Mark is extremely gifted on the axe.
I grew up with musicians and have been a long time listening to live music - The skill I saw/heard on his leads is incredible. My wife (a music major who also teaches voice at Pacific University and used to do front line keyboards and vocals in top 40 bands for years) was also greatly impressed. The way I can tell its not just me, is that instead of her usual "lets go" after the first set, she stayed on drinking up each tune as it got more and more intricate. I especially like the Stevie Ray Vaugn/Santana influences..but your own tunes have lots going on too. Best of luck to you - I am an instant fan. Also, a friend of Janna and Bill who couldn't come to the Robin Hood Festival due to work slaving him like a dog past his normal time off.
Thanks for proving me right.
Paul
01/06/2002
Hey guys, don't know if you'll remember us, we stopped and talked to you about Memphis right around closing time at the Westside last night. Thanks for the music...you guys rocked!
Neil and Janna
06/30/02
I wish to thank you for a great time this weekend.. You all are very good. I like the way you involve the crowd.. I forget your wife's name. I am not very good with names. I really did like the way she made me feel. She gets everyone going out to dance and I like that.. so if you could please tell her that Mary said thank you very much... and I will show her pics of Kenny Rogers after the concert. Anyway one last thank you and I will let you go.... Please be safe and come back to the Holiday Inn soon.
Mary
On one occasion when we played the Sherwood Robin Hood Festival, the organizer who we'll call Phil cuz, well... ... ... that's his name sent us this very nice card.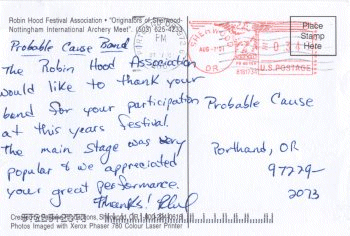 Thanks Phil!
Oh yes, There's more!